Perth Decking : Timber Ceilings : Screens
Installers of Quality Outdoor Timber Solutions - North and South of the River
Just a few of the projects from
Perth Outdoor Installations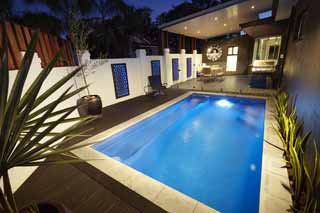 Mahogany decking, glass fence, white timber
ceiling and feature screen light boxes
transform this hidden oasis.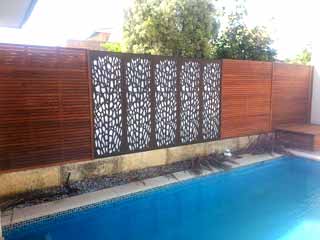 Hiding an ugly fence in Sorrento with
Duende decorative screens.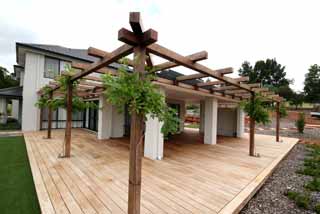 A big deck and chunky pergola in the Perth Hills.


Solid W/ Red Cedar lining, natural stone
cladding – a perfect mix.
Decking in Perth
Good Decking requires good local knowledge, experience and the ability to expertly advise customers on the right timber, the right fixings and the right design which is specific to your outdoor area.
There are many aspects that dictate the type of decking material to be used, and of course all of this will be influenced by the actual position of the deck. Perth Outdoor Installations specialise in supplying and fitting Decking in Perth homes and businesses with decking and timber ceilings. We have gained an excellent reputation as premiere deck builders in Perth.
And of course, we offer one of the widest ranges of decking materials available in Perth. Several premier timber decking types together with the exciting range of alternative materials developed specially for decking.
---
We are ceiling specialists in Perth and are preferred installers for several prominent Perth decking and timber lining suppliers. We offer a consultative approach to your outdoor project, with an initial consultation and quotation based on your visions and our practical/local knowledge.
Timber Ceilings
Timber Ceilings are a sleek, stylish way to modernise your alfresco area which can be built into most existing structures. We have access to, and are experienced in, using a wide variety of timber lining products, specific to your individual needs.
A timber lined ceiling will both enhance your area, and of course help insulate from extremes of temperature.
Our range of timber lining materials will include the perfect match or contrast for your ceiling project.
---
Glass Panel fencing
Glass Panel Fencing is
becoming more popular - with regulations stipulating safety aspects that have to be taken into account in relation to swimming pool safety. We are well qualified and experienced - as will be seen from the images of our work in this area.
---
Screens & Screening
Screen Fencing provision is becoming increasingly important - especially with the introduction of contemporary screen panels. These, together with our 'traditional' crafted screen fencing, widens the scope of what can be achieved in the home or garden area.
We are not talking of old fashioned fence panels or trellis. Take a look at our feature on timber screens and judge for yourself. The addition of some well-positioned and designed screen units can do much to enhance the visual character of your property.
We look forward to discussing your outdoor project with you, and you may be assured that your call or email will get the attention upon which we have built our successful business.