Jarrah Hardwood Decking Perth - East Fremantle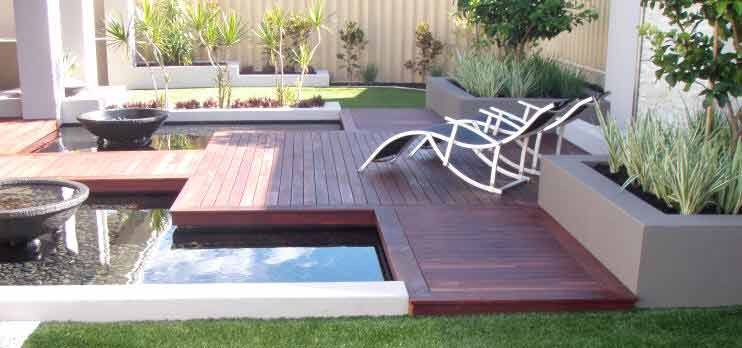 This hardwood deck - constructed from Jarrah decking timber in East Fremantle - typifies the attention to detail and professionalism you can expect from a Perth Outdoor Installation decking team. The landscape architect had a clear vision of how the overall garden should look and Perth Outdoor Installations were able work alongside other tradesmen to gain this superior, high class finish
The decking defined, and gave access to the pond area and associated seating/recreation. Planters surrounded the deck.
In this case the hardwood deck was fixed using hidden fixing system which gives a minimalist look to the decking. Unlike some decking companies Perth Outdoor Installations have a proven technique and use excellent hardware to achieve this look and can guarantee it for years..
Pre-Oiled Decking
Like many of our decking projects the Jarrah decking is pre-oiled on all four sides of each board.This oiling process is carried out in a factory before we start each project. Pre-oiling hardwood decking such as Jarrah Decking Timber has many advantages - not least the fact that future oiling of the deckboards simply means a top coat finish.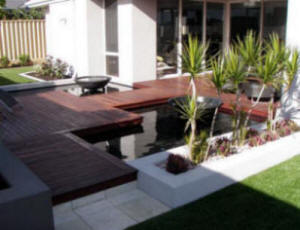 We can also advise on the best oil products and techniques for any deck we install. It is absolutely important to ensure that the right type of oil and timber is used for individual locations. The finished colour of the deck does much by way of heat retention/reflection and can be an important factor as to whether the deck can be used on very hot days!
This image give<![endif]>s a good indication of the overall design shape and also shows the importance of using plants to enhance and soften the deck and paving. The right choice of plants around deck ponds is important - not least to ensure that there is no loss of dead foliage into the water.
The hardwood decking is fixed above the waterline level of the pond to ensure no 'seepage' into the decking timbers. It forms a functional and attractive walkway from the house into the recreational area provided by the deck.