Pool and Decking Glass Fencing - Perth
Glass fencing around pool areas and for decking in Perth WA, is becoming a substantial part of our workload. We have considerable expertise in the provision and fixing of glass fencing panels - to pool, decking and other areas - where a virtually invisible barrier is required.
A considerable advantage in using POI, is the fact that we are capable of integrating glass fencing into decking and poolside schemes without having to use additional contractors. We design it - we do it! All you have to do is call, and we take care of everything with our own staff. No need to deal with separate contractors for decking and glass fencing.
Safety and Regulations for Glass Fencing in Perth.
Safety, is of course one of the main reasons for installing glass fencing panels - together with the aesthetic appeal. Pool fencing is installed to the Australian Standard AS 1926.1 - 1993 as a bare minimum. We always carry out our work to relevant safety and installation regulations - normally exceeding the legal requirements. Glass panel fencing around pools in particular need to be installed with the regulations in mind, and to surpass the requirements of such regulations where applicable. At the time of writing, the current building regulations for WA, relating to glass panels were updated 19th December 2012. We keep ourselves up to date with all such regulations and recommendations.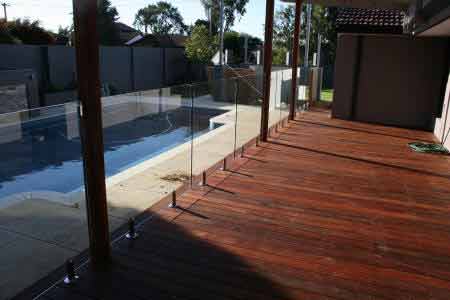 Glass panel fencing can be incorporated to most existing schemes and layouts. However, with new schemes, the glass fencing around decking and pools can be integrated perfectly - using a number of differing installation techniques - according to the make of glass panel selected. Again we stress our advantages in installing glass panels and deck surfaces together.
At the design stage we can eliminate the need for bulky cover plates around the fixing spigots which are often used. Our aim is to provide you with glass fencing that is an integral part of the overall design - blending in seamlessly with the surface to be used. Our designing and workmanship is aimed at giving you maximum protection, with minimum visual disruption. We want your glass fencing panels to be see 'growing' through the decking.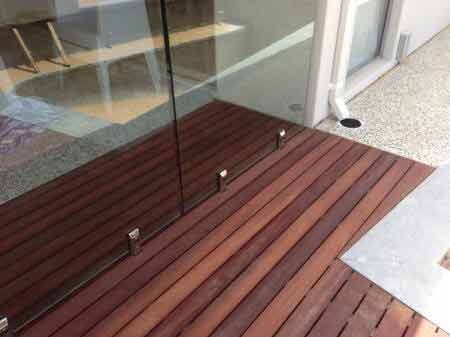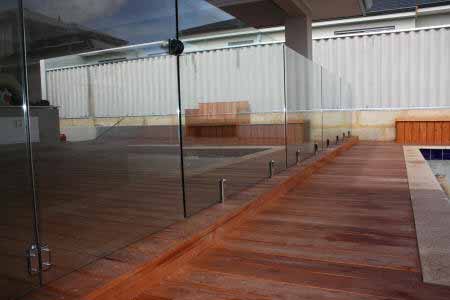 As with all our projects we have established supplier relationships but are not necessarily bound to any of them. This means our customers have a wide range of products to choose from that are specific to their needs. We can supply and install frame-less glass fencing with round or square spigots, or semi-frameless glass fencing and of course all your decking requirements.