Decking in Perth
Just a few of our Decks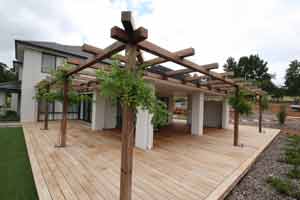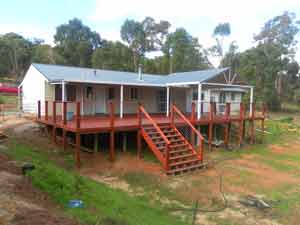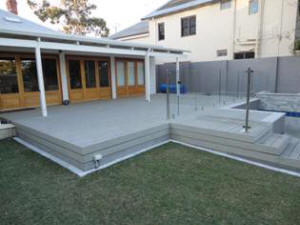 Why Timber Decking Perth?
We are fortunate in to experience one of the best climates for outdoor living and everyone here knows how to enjoy it to the full. Sport, the beach, concerts, and of course day to day outdoor living, are seemingly all part of the Decking Perth outdoor experience. We live outside during the summer months (and some of us do in the cooler months too!) and there is no better way to experience your own outdoor area than with a stylish, comfortable and safe timber or composite decking area.
We have more than 15 combined years experience of fitting and installing timber decking in Perth using a variety of timbers and tailoring the design to suit client's individual areas. (Our owner loves timber so much he has a degree in it!).
Deck Design and Build Quality is Important
Decking in Perth is not uncommon, but it's amazing how common it is to come across a deck that has been installed badly (and sometimes unsafely) by inexperienced or untrained carpenters or DIY enthusiasts. With our broad decking installation experience across 5 continents - working on both commercial and residential projects - we pride ourselves on having the knowledge and experience required to design and make good decks. We build to ensure safety and security with quality finishes and stunning designs.
We can be as creative as you want us to be in giving you the ideas and templates for your Perth decking project. You can then expand on those. Or, you can take the lead and give us a full decking plan that you would like us to turn into reality.
We work with traditional timber species, including Jarrah Hardwood Decking, Merbau and Batau. We are also constantly assessing the suitability of new, more sustainable timbers that can survive the Perth environment. These include timbers such as Fijian Mahogany, NSW Blackbutt and Red Balau. Our experience with decking materials also extends to composite timbers such as Modwood and Timber-tech and Millboard. We can discuss the pros and cons of each of these timbers when we meet you for your initial quotation as it can often depend on the positioning and size of your deck for which timber we will recommend.
We are also very happy to be working with the Millboard Decking products.
Perth Hills Decking Projects - Small portfolio of BIG decks at Perth Hills area - WA
As fully qualified carpenters, no deck design is beyond our capability, be it a small square feature outside your front door to a large raised deck with stairs and balustrades, together with glass fencing and railings. We are passionate about what we do and always work hard to make sure your decking project is of the highest standard and quality and something you are proud to show off to your neighbours (and hopefully some positive recommendations for us!)