Timber Lined Ceiling in Fremantle Glosswood Ceiling Lining Boards
---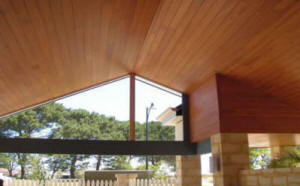 This ceiling was lined using Glosswood pre-finished lining boards. Like many of our projects the entire design of the new alfresco structure allowed for the installation of 9mm timber lining.
It is not only ceilings where timber lining can be used. In this example Perth Outdoor Installations used timber lining to clad some vertical areas. As well as looking fantastic, proper installation of timber lining boards vertically can hide any unsightly or unfinished areas of a building. An example of this is the top of the limestone pillars in the photo above.
Timber lined ceilings can look great with different angles, roof pitches and shapes. In this case it is even more important to have competent tradesmen to carry out the installation to ensure the optimum finish.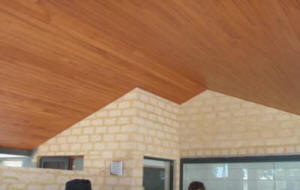 The main advantage of using a pre-finished ceiling lining board is that they require zero maintenance. Once the team at Perth Outdoor Installations have finished your project just sit back and admire for years to come!