Designer Modular Screens Covering Fences
Modular screening comes in specific size panels but it is still possible to put them together to cover almost any size space that you might have. These beautifully designed feature screens are made from exterior grade fibreboard and are able to be cut down, or extended with hardwood inserts. We have access to several stunning designs, all of which can be viewed and discussed during a free quotation.
This client in Stirling had a lovely alfresco area but one side had a low corrugated fence which they wanted to hide. They looked straight onto the neighbour's wall. With the intervention of Perth Outdoor Installations, this unfortunate aspect was transformed to a feature and immediately created a pleasant place to be.

Cement fencing is practical but not especially attractive. It is amazing what some well installed screening can do!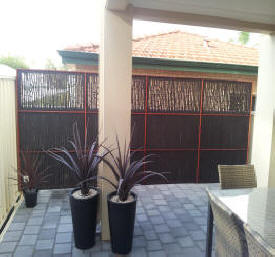 Colourbond fencing can also be screened and disguised using modular screen panels. This client in Applecross wanted to enhance the look of their damaged colourbond fence at the entrance to their property. Using screens and solid Jarrah, Perth Outdoor Installations were able to completely hide the colourbond and create an instant wow factor for anyone visiting the property.