Screening Around a Pool Filter.
Slatted Timber Screen Panels adapted to screen filter units around pools.
Many people have a beautiful new pool at their property but often with an unsightly pool filter that has simply been plumbed in and left by the pool installation company.
We can offer you several solutions to this common problem which will help to transform an ugly filter into a pleasant and sophisticated outdoor feature. Your filtration systems must be accessible of course, so we will construct any screen with your requirements in mind.
These examples show pool filter screening using Merbau timber slatted screening with hidden fixings and matching laminated Merbau posts. The image below left has one section for the pool filtration equipment and one for a private outdoor shower/changing room.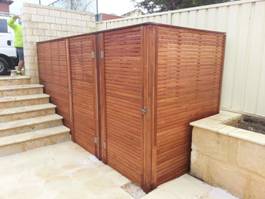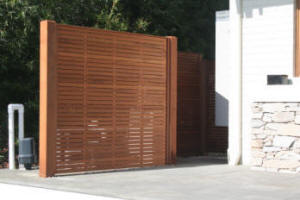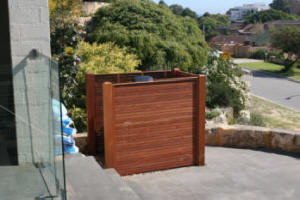 Your pool filter need to be easily accessible, so we ensure it has a door and an opening top (that stays open!) as standard specifications. The images below show how full access to your filtration unit is available, but at the same time totally screening it from view.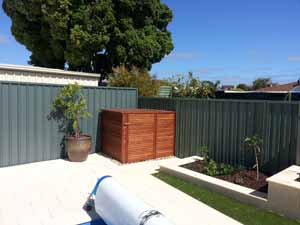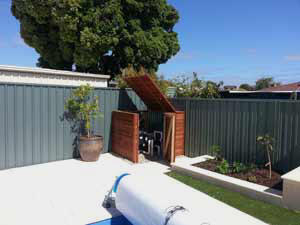 Pool filter units are not always placed in the most convenient of places and they are rarely hidden from sight. Our examples show how timber screening panels can be 'adapted' to both 'hide' and allow full access to the filtration unit - or any other eyesore!